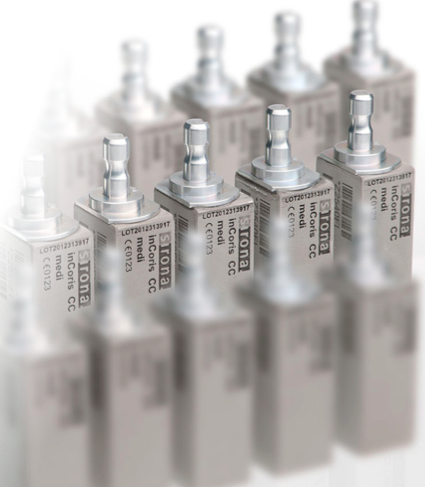 inCoris CC is a sintering metal based on a CoCr alloy that, like the known zirconium oxide process, is first milled while oversized and then compacted by sintering in a furnace under argon atmosphere, for example with the inFire HTC speed.

NPM restorations can now be fun:

As easy and clean as zirconium oxide
Fast
High quality
No more risk of bubbles or warping
Added value in the laboratory
Wet milling
Up to 4-unit bridges
Tangential preparations can be worked on
Blocks in four sizes: mono, medi, maxi S, and maxi L


The majority of all restorations fabricated around the world are still made of NPM. inCoris CC does not differ from the conventional materials used in laboratory routine. It can be processed as usual, the difference being that the time-consuming steps of modeling, casting, and deflasking are omitted.
Starting immediately, this is also possible with inLab in the own laboratory with no further major investment. CoCr restorations can be fabricated in laboratory routine quicker, cleaner, and in a higher quality. The capacity of the inLab system can be even better used, because of this.
INCORIS CC MAXI S BLOCK 1piece

inCoris CC is a so-called sintered metal on the basis of a CoCr alloy, which is ground as already enlarged the known method of the zirconium oxide first and then in the oven (inFire HTC speed) is d... Learn More

INCORIS CC MEDI BLOCK 5/Pkg

inCoris CC is a so-called sintered metal on the basis of a CoCr alloy, which is ground as already enlarged the known method of the zirconium oxide first and then in the oven (inFire HTC speed) is d... Learn More

INCORIS CC MONO BLOCK 10/Pkg

inCoris CC is a so-called sintered metal on the basis of a CoCr alloy, which is ground as already enlarged the known method of the zirconium oxide first and then in the oven (inFire HTC speed) is d... Learn More