P
P
Dentists around the world are getting back to practice, and with it, a new sense of protection for patients, staff and doctors. What better time, then, to review the many Rubber Dam Resources available to us online? DentalCADCAM has sourced seven excellent websites/courses for you to improve your rubber dam and isolation skills - all in the name of better dentistry!
P
P
Dr. Calin Pop - The Rubber Dam Master Course (Online Course)
First up, Dr. Calin Pop, CEREC user in Abu Dhabi, presents his online courses for mastering the rubber dam technique. For just $90 you get 9 modules on Dr. Pop's rubber dam techniques, tips and tricks plus another 7 bonus videos showing clinical applications of his techniques. Many, many CEREC doctors have taken Dr. Pop's courses with only positive feedback. We highly recommend this course.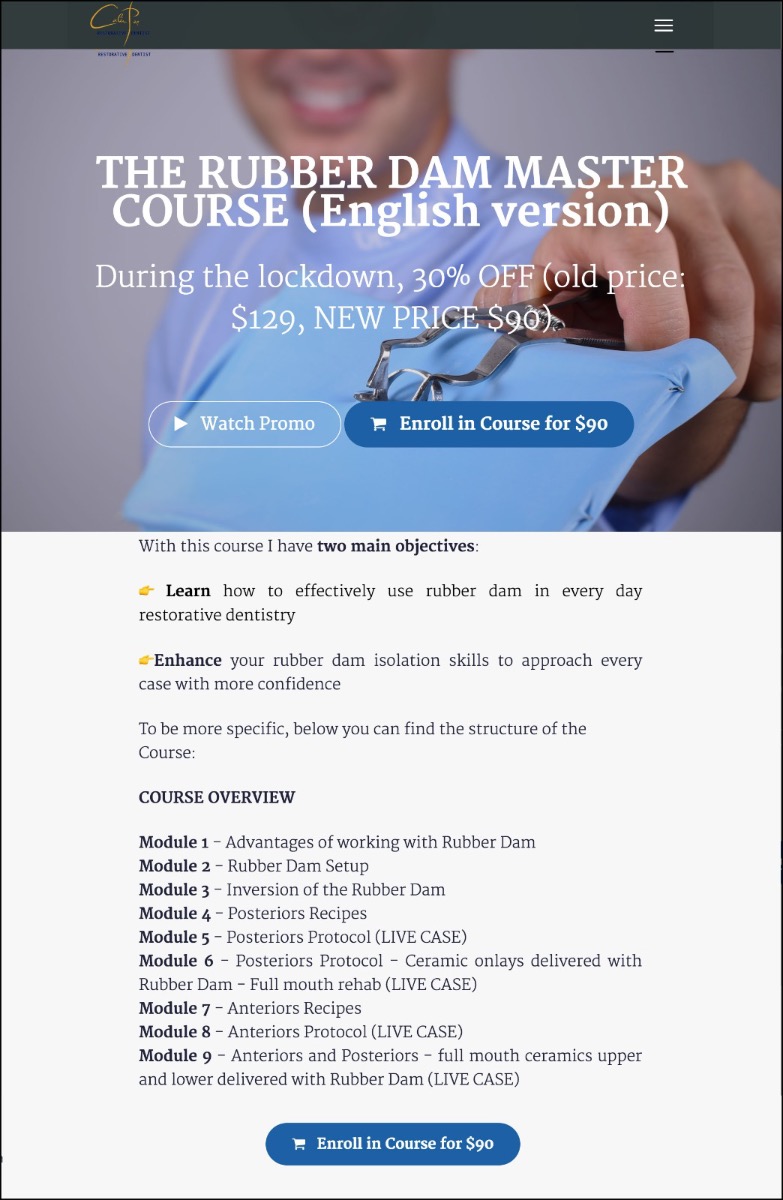 P
P
Master Dental Society - Rubber Dam And Isolation Techniques (Online Course)
Dr. Mohamed Shalaby's rubber dam courses start now and never end! It is a completely self-paced online course - you decide when you start and when you finish. After enrolling, you have unlimited access to this course for as long as you like - across any and all devices you own.
P
P
Decisions In Dentistry - 10 Steps To Rubber Dam Isolation in Restorative Therapy (Article)
Mario F. Romero, DDS, John F. Coleman, DMD, Michael Pruett, DMD and Courtney S. Babb, DMD
"A survey of the use of dental dams revealed that 63% of U.S. dentists do not use this type of isolation for any type of restorative procedure.2 A reason commonly expressed for lack of use is that dam placement is time consuming. The authors of this article believe the lack of practice and improper technique explain why placing dams can be time consuming. The aim of this article is to describe a simple and effective 10-step technique for achieving dam isolation."
P
P
Style Italiano - Beginning of Wisdom: Daily use of the rubber dam (Article)
Dr. Angie Segatto writes a fantastic overview of the daily use of rubber dam: "Starting the daily use of the rubber dam is the beginning of wisdom. When the rubber dam comes through the door, slipshod methods go out of the window. It marks the beginning of better dentistry."
P
P
Style Italiano - Digital Impression under Rubber Dam Isolation (Article)
Dr. Enzo Attanasio writes: "Preparation margins are often an issue when a precision impression is to be taken to fabricate an indirect restoration. These margins are often juxta- or slightly sub gingival, even though they can be isolated. Luckily."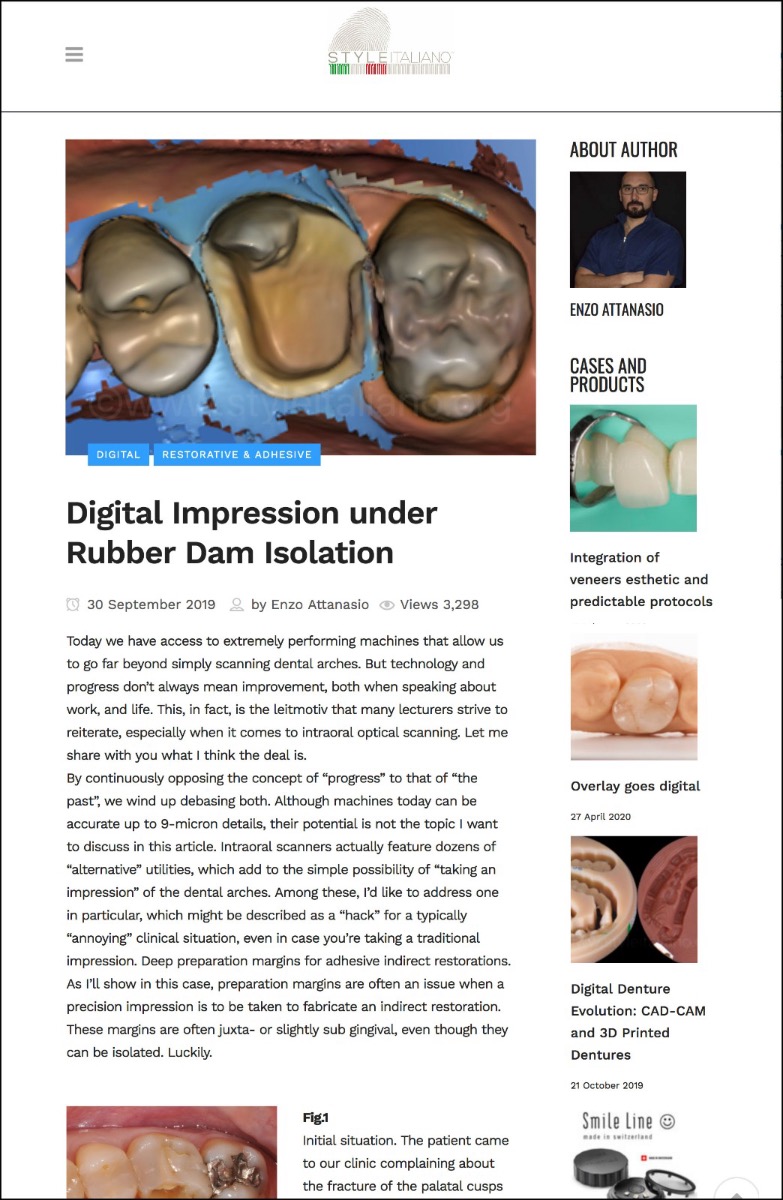 P
P
RUBBERDAMology: basics, tips and tricks with isolation (Webinar)
Dr. Maxim Belograd: "It is well known that all dental work must be under full control by operator. We always try to do our best during root canal treatment, or placing composite restorations, or luting bonded ceramic constructions. We pay a lot of attention to details and procedures, learn all new aspects of operative dentistry, follow all steps and protocols but… some time do waste our invaluable time due to challenging with moisture – saliva, bleeding, tongue, chicks, lips that are often on our way to reach the goal. And this competition is always more stressful then other most important components. Fortunately we have got great assistant for this "dirty" job that gives us stress-free conditions of working, saves our time and health and gives best ergonomics. It is rubberdam."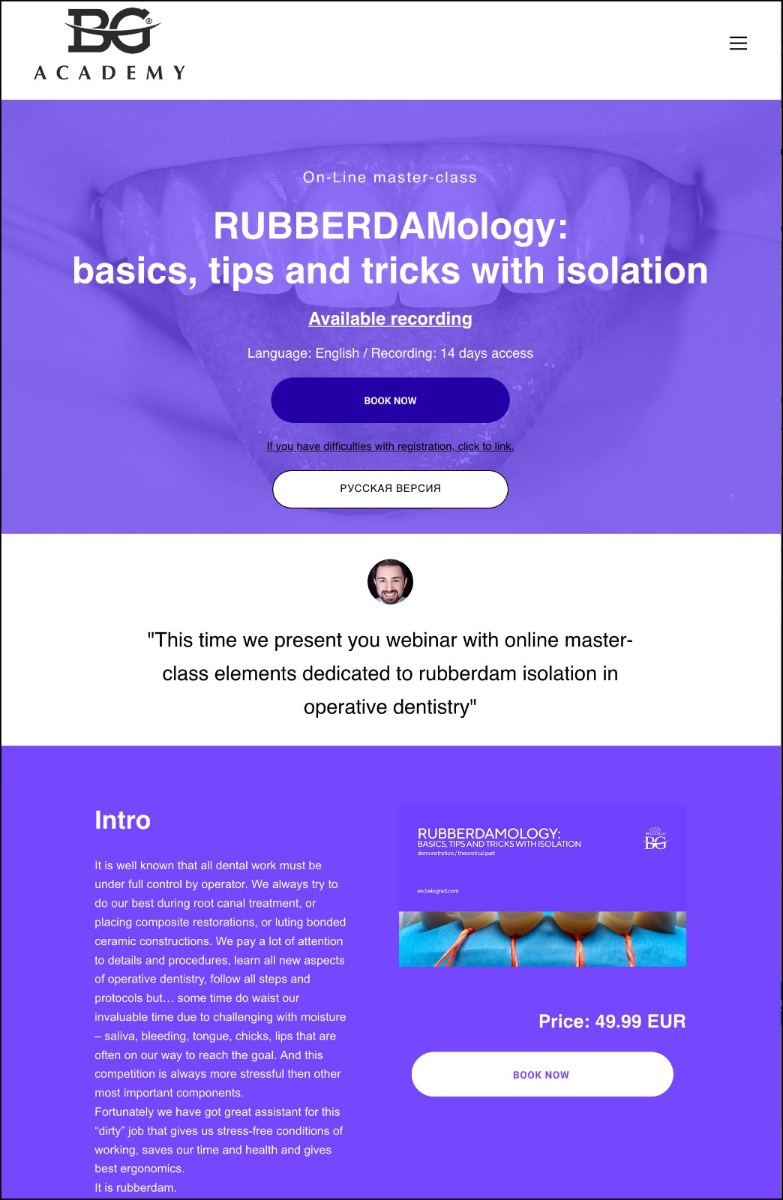 P
P
Dental Protection - The Benefits of Rubber Dam (Article)
Dr. Sahil Soni's case report highlights: "... Advantage of using a rubber dam is presented in the following case, where the subgingival margins and inflamed tissues posed a difficult situation for accurate scanning to fabricate an indirect CAD-CAM restoration."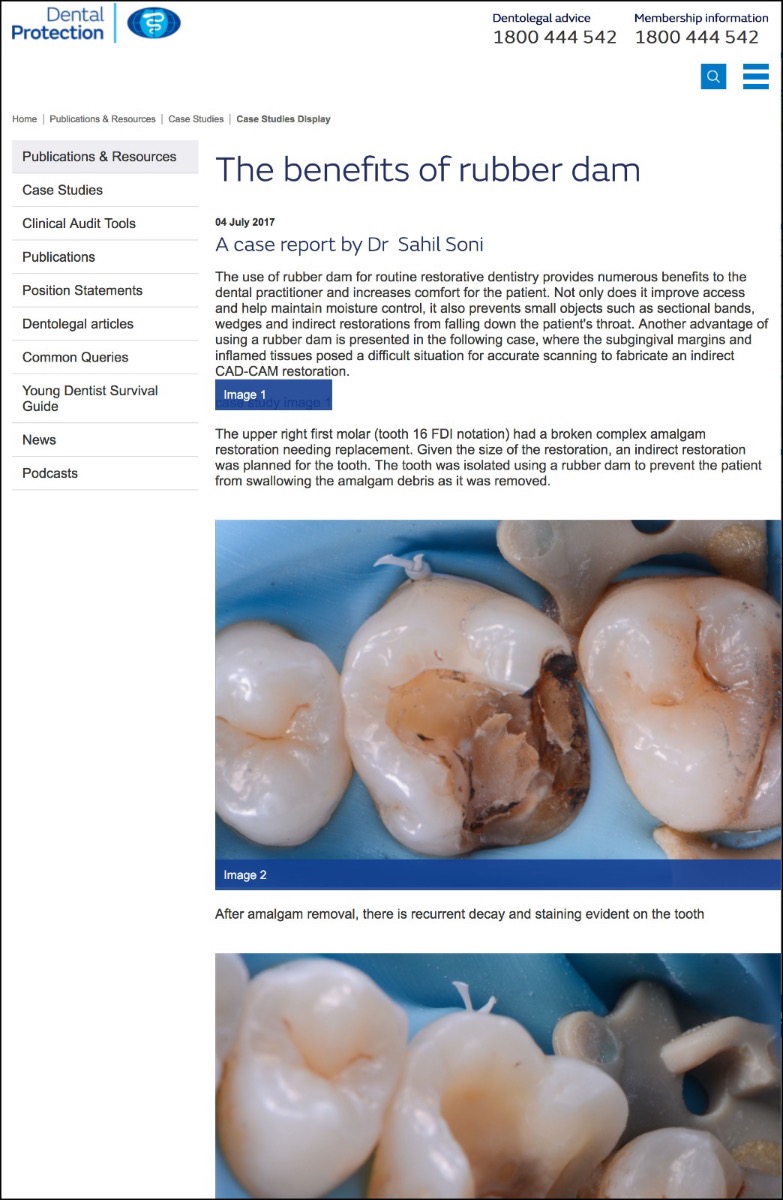 P

P


P
Happy Milling!
Your DentalCADCAM Team
P